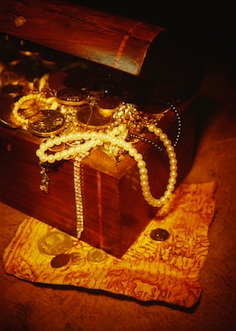 You may have heard it said that we all have the inner resources to cope with life and make ourselves happy. A movement which influenced and still influences counselling practice, called 'The Person-Centred' approach, carries this idea at its core. But is this really true? Do we, do you, have all that you need inside of you to live a fulfilling and happy life?
The answer is 'yes' but it is a little more complex than it first appears. Often we have what we need to survive, cope, be happy, inside of us but we cannot access these strengths and skills and we do not always use them appropriately. It is a little like buried treasure.
Imagine uncovering, and looking down into, a deep well. You can see glimmerings at the bottom of the well but you cannot reach the jewels that sparkle, dulled as they are by the distance of the dark tunnel. You need some help. You need some ladders, rope, and strong people to encourage you into this darkness. You need support and guidance to help you get to the bottom of your well, your buried treasure, to enable you to access your strengths and skills. How can you do this? Where do you look for the support which will help you travel that long distance, often with little light?
Here are some things you can actively do to find your inner resources – your own buried treasure:
Listen carefully to the stories of others, look and learn how other people cope with life situations;
Spend time thinking, feeling and showing empathy for the lives of others so that they can enrich your own life;
Travel alongside emotionally strong people and watch how they live, emulate their strength and develop this in yourself;
Allow space and time to reflect, to be quiet, to be grateful: embrace a little solitude;
Look for help and ask for help when you need it;
Embark on some form of therapy to help you to understand your own life and find your inner strength and value.
In doing any of these things, looking for knowledge and support and using what we learn in our own lives, we form depth. We grasp hold of the ropes that others give us and we create the bars of the rungs of the ladder which will take us down deep into our own buried treasure – our inner resources. There we will find our own ability to survive, live, cope and be happy.
For many of us, though, this treasure is buried deep and is well hidden. There may not even be a sparkle when we look down inside our well. It is buried by early years of trauma, later years of pain. We may stand at that well, looking inside ourselves, struggling to cope, desperately trying to be happy and we see nothing there of value, not even a glimmer of light. We may even stand at our own well and wonder if we are worthy of any kind of treasure: "Do I even deserve to be happy? No-one else has ever thought I was worth anything?"
It's important to know that your treasure – your inner resources, skills, strength, and courage – is there inside of you and that you can access it and deserve to find it. You do have the potential inside of you to cope, be happy and live a fulfilling life. In taking the action steps above and reaching out for help and guidance you can find your deep inner resources. But remember that while others can help you make the journey, only you can grasp the treasure. Only you can believe that you are special, a person of value and worth, with gifts and skills, made of sparkling jewels that can bring you happiness and enable you to cope with all that life throws at you. Only you can claim your own buried treasure.
© 2012 +Ruth Nina Welsh. Be Your Own Counsellor & Coach
Other articles you might like:
Tags: counselling, self-help