Is there such a thing as a 'Normal Sex Life'?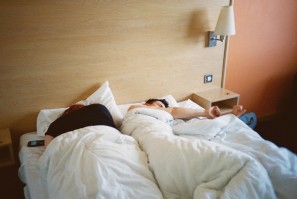 Do I Have a Normal Sex Life?
With streams of sexually charged material all around us is it any wonder that so many of us are concerned about our sex lives?  Each year couples and individuals of all ages choose to see a sex therapist because of the concerns regarding their sex life.  One of the most common issues that bring couples and individuals into sex therapy is the age old question: "Is my sex life normal?"
Many people think that everyone but them is having a normal sex life and because of this, there is something wrong with theirs.  At times, just thinking about this intimate aspect of our lives can invoke feelings such as: embarrassment, stress, or even shame which makes enjoying a healthy sex life complicated.  The truth about the "normal" sex life is that it is a myth, it simply does not exist.
The French expression: "Tous les gouts sont dans la nature", which literally means: "All preferences are found in nature," applies very well to our sex lives.  If you were to imagine and make a comparison of the sex lives of those you see on a daily basis you are going to find differences and this is "normal".  What is not "normal" is when you have difficulty experiencing and enjoying your sex life.  If you or your sexual partner is experiencing concerns or difficulty related to sex it may be helpful to speak to a therapist to explore whether or not sex therapy is right for you.
By Justin Duwe, Psychotherapist, BSc, MA, MBPsS
Harley Therapy – Psychotherapy and Counselling can connect you with therapists who specialise in sexual issues such as: loss of sexual desire, erectile dysfunction, premature ejaculation, painful intercourse, sex avoidance, Vaginismus, Anorgasmia, sex and pornography addiction.