Anxiety Therapy in London
Anxiety can leave you feeling like you'll never again be able to just relax and be yourself. But our highly experienced therapists can teach you proven methods to manage your thinking and overcome your fears, so you can once again enjoy life. 
When are anxious thoughts a problem?  
Feeling anxious in difficult situations like exams and job interviews is completely normal. And if we end up in a dangerous situation or facing a big challenge, our body triggers our stress response to give us more focus and help us manage.
But if you have an anxiety problem, your mind always finds something to panic about, even if it's illogical. You constantly scan for danger. And your stress response triggers regularly, sometimes at the slightest thing, leaving you feeling distressed and out of control.
Cognitive behavioural therapy (CBT)
Cognitive behavioural therapy (CBT) is currently the most common treatment for anxiety disorders. It is recommended by the National Institute for Health and Care Excellence (NICE) for generalised anxiety disorder and panic disorder, and is shown by recent research to help even a year post treatment.1
CBT therapy for anxiety helps you turn negative thoughts into balanced, helpful ones. And to take positive actions towards your goals despite your fears and worries.  Some CBT therapists also use 'exposure therapy', helping you face things you are afraid of step by step. 
Anxiety counselling - the Harley Therapy™ approach
At Harley Therapy™, all our therapists are integrative. Meaning they have trained in not just CBT, but also several other therapy approaches. So they can tailor your therapy to truly suit your individual needs, giving you the coping methods to get your life back on track. 
We also have psychiatrists and a GP on our team, should there seem a case for medication with your anxiety treatment. 
But I've always been the anxious type
While it is true that some of us are more prone to being high strung than others, being anxious since you were a child does not make it normal or okay, even if you have 'high functioning anxiety' and can hide it well.
Chronic anxiety often means you grew up with a parent who was anxious, or in a household that was unstable. Or you lived through childhood trauma that deeply affected your sense of self and worth. Whatever the case, therapy can make a difference, no matter how long you've lived with fearful thinking.
Symptoms of anxiety
Note that anxiety also comes with many physical symptoms, which can include a racing heart, sweatiness, and shortness of breath. Sleep can be a struggle, and you can suffer things like headaches and stomach upsets. 
And while stress leaves us pushing ourselves to breaking point, anxiety sees us withdraw. You might avoid socialising or say no to opportunities, leaving your relationships and career to suffer. This can lead to low self-esteem and loneliness, meaning depression and anxiety often come hand-in-hand.
Time to finally breathe again? 
Give us a call today to talk to an expert anxiety therapist who understands what you are going through, and has helped many others just like you to thrive. Or use our online booking form to book therapy for anxiety in London, either at at our head office on Harley Street, in the City, or at London Bridge.
Can't get to the city or living overseas? We also offer sessions online.
The different types of anxiety
If your feelings of anxiety have gone on for six months or more, and, your thoughts have become less logic and more fearful? Your anxiety might have become generalised anxiety disorder (GAD).
Other anxiety diagnoses can include:
panic disorder 
social anxiety (with or without agoraphobia)
postpartum anxiety
specific phobias
separation anxiety disorder.  
Your therapist can also diagnose if your anxiety is part of another, related disorder. This includes post-traumatic stress disorder (PTSD), attention deficit hyperactivity disorder (ADHD), or obsessive compulsive disorder (OCD). 
Further reading 
Free Yourself from Anxiety: A Self Help Guide to Overcoming Anxiety Disorders. by Emma Fletcher and Martha Langley (2009).
Overcoming Anxiety - A Self-Help Guide .by Helen Kennerley (1997).
*You can also go try our Anxiety Test (GAD 7), our diagnostic tool that is similar to one that is referred to by therapists. But remember, it is always best to see a medical professional if you are concerned about your health.
Footnotes
1van Dis EAM, van Veen SC, Hagenaars MA, et al. Long-term Outcomes of Cognitive Behavioral Therapy for Anxiety-Related Disorders

: 

A Systematic Review and Meta-analysis. JAMA Psychiatry. 2020;77(3):265–273. doi:10.1001/jamapsychiatry.2019.3986.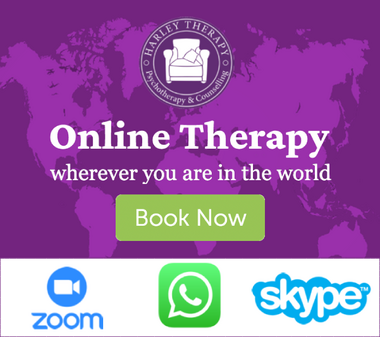 Issues for Anxiety Counselling
agoraphobia

death anxiety

driving anxiety

fear of public speaking

generalised anxiety disorder (GAD)

general worry

high functioning anxiety

morning anxiety

nervousness
night anxiety
overthinking
panic attacks

performance anxiety

phobias

postpartum anxiety

PTSD and c-PTSD

separation anxiety

sexual performance anxiety

shyness
sleep anxiety
social anxiety
trauma and complex trauma.
Symptoms of Anxiety
difficulty sleeping

dizziness
drowsiness & exhaustion
fearful thoughts and feelings
feeling 'on edge'

headaches

impatience
irregular heartbeat (palpitations)
irritability
nail biting
jaw clenching or grinding
muscle tension
racing thoughts
restlessness
sense of dread
shortness of breath
skin picking
sweatiness
upset stomach.
What are five symptoms of anxiety?
There are certainly more than five. The main thing that differentiates anxiety from simple worry is fear. You will feel fear in your body, and signs of fear, like a racing heart, stomach upset, sweatiness, sleeplessness, and muscle tension. Your thoughts will be fear-based, full of doom and gloom, and increasingly illogic, over based on real possibilities. And even if you solve one problem your mind finds something else to panic about. 
What is the main cause of anxiety?
Anxiety tends to become a pattern your brain turns to because of an experience that overwhelmed you. This could have been a recent shock, like a bereavement, loss of a way of life, or very difficult breakup. It more often has its roots in childhood, and an environment where you were neglected, couldn't feel safe, or experienced trauma in. Child abuse leaves many suffering anxiety for the rest of their lives unless they seek support. 
Will my anxiety just go away?
Worry can go away if we deal with the issue that is bothering us. Clinical anxiety, on the other hand, is an addictive pattern of negative thinking that doesn't tend to just vanish. We need to face our anxiety, learn coping mechanisms, retrain our thinking, and, ideally, seek professional support and treatments that help.