Harley Street Revealed – A History of Prestige
Harley Street- What's in a Name?
London is a city known for its long history, a place that has seen generations and eras come and go. And yet some things manage to stay the same, with certain areas and streets still devoted to the trades they have been touting for centuries. There's Saville Row, the home of bespoke tailors since 1790. Denmark street with its musical shops and songwriters. And Fleet Street, with its journalists and newspaper offices.
But one street has for generations stood above the others with its air of prestige and privacy – Harley Street.
Harley Street has long been the place where the most esteemed and established doctors, surgeons and healthcare practitioners, including psychotherapists, psychiatrists and counsellors, have kept their offices. Cutting edge science is carried out behind the closed doors of elegant mansions for an increasingly international clientele, and most of the famous doctors mentioned in the British press these days come with Harley Street attached to their name.
Where is Harley Street?
Harley Street sits smack in the middle of central London in the borough of Westminster, which houses most of the main tourist sites of the city including Speaker's Corner, the Royal Opera House, and Madame Tussaud's. Found near the famous Oxford High Street shopping area, the street starts almost directly behind London's royally appointed department store John Lewis. Transport wise, Harley Street is near not only Euston Train station but also Paddington, Kings Cross, and St. Pancras.
What is Harley Street Like Today?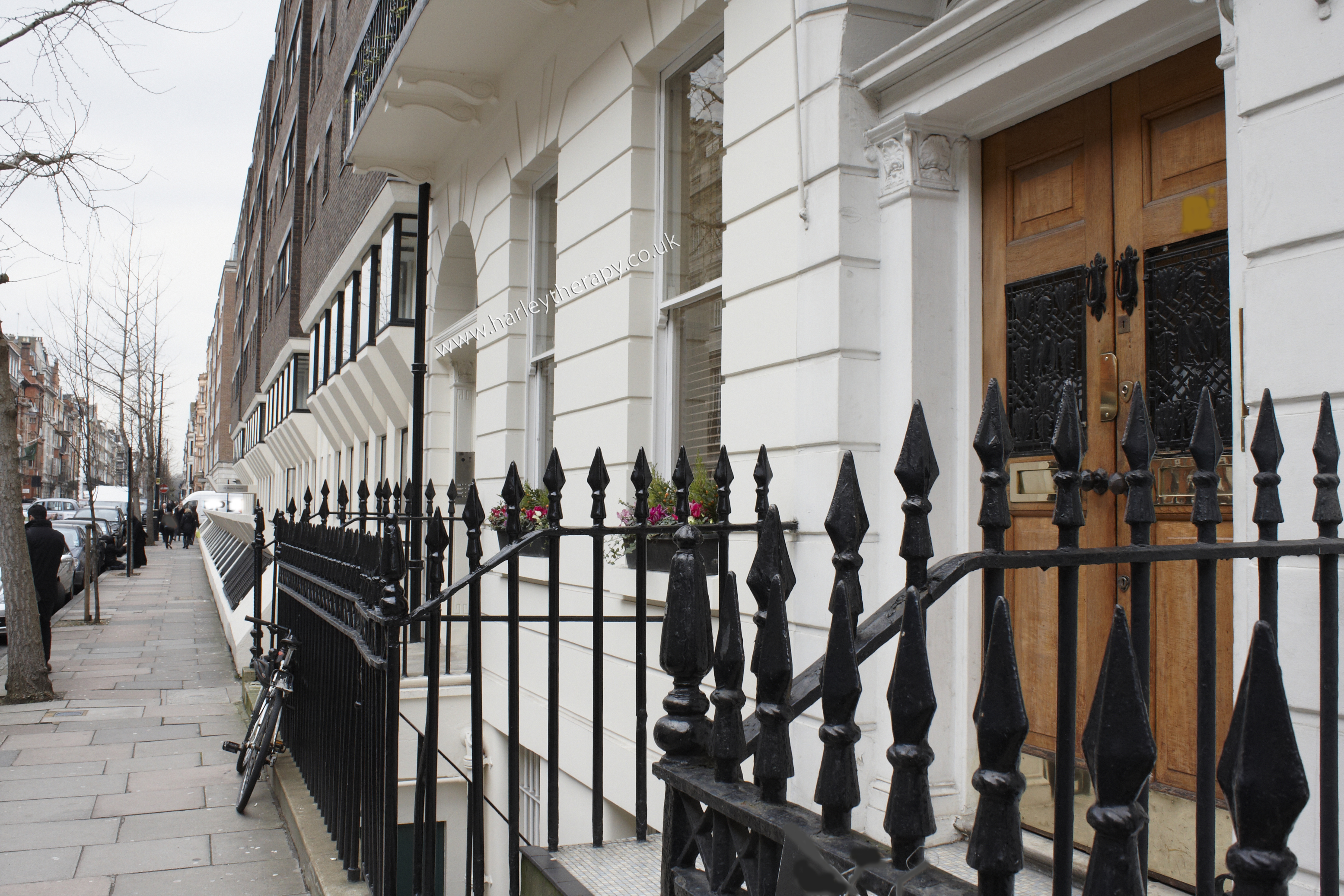 Harley Street is a lovely street to walk along, wide and spacious and lined with well-kept Georgian mansions that boast multi-paned symmetric windows, elaborate doorways, wrought iron gates and flower boxes. An estimated 1,500 medical practitioners and 3,000 associated employees presently work along the street.
The History of Harley Street
At the beginning of the 18th century London was growing significantly with the start of the Industrial Revolution. The area already known as "Marylebone Village" – that Harley Street would become part of – benefitted by this era's growth by becoming littered with the large, picturesque Georgian houses you still see today. As well as being known for its wealthy inhabitants the area was famed for the entertainments held in Marylebone gardens that included bear baiting and prizefights.
The largest manor in the area was called Tyburn estate. Purchased in 1710 by John Holles, the Duke of Newcastle, it was then inherited by his daughter Lady Henrietta Cavendish Holles, who married Edward Harley, Earl of Oxford. She and the Earl noticed there was a need for fashionable housing in the area and commissioned a grid system of streets from an architect named John Price. They named many of the streets after family members, and Harley Street was born.
By the 1800s Harley Street had become popular with doctors (but not yet psychotherapists, Western psychotherapy was yet to be birthed as a science). It was not just the central location, accessibility to public transport, and air of prestige the area had which drew them to relocate, but also that the houses were spacious enough that the doctors could use them both as surgeries and private residences.
As more and more doctors moved to the area they invited colleagues to work with them and Harley Street began to be known as a centre of medical excellence, a reputation that solidified when the Medical Society of London opened nearby in 1873 and the Royal Society of Medicine in 1912. In 1860, there were around 20 doctors practising in Harley Street, and by the time the National Health Service (NHS) was established in 1948 there were around 1,500 doctors living and working on or around Harley Street.
Over the years the ownership of the area was inherited and passed through different families. Today Harley Street is owned by the de Walden family and managed by the de Walden Estate.
Notable Residents of Harley Street
Many famous people have lived or practised on Harley Street, and if you walk along the street today you can spot the distinctive blue English Heritage plaques that show where these famous people resided or worked. Here are some of the most notable:
William Ewart Gladstone Victorian Prime Minister (1876- 1882)
J.M.W Turner artist (1798)
Sir Henry Thompson (1870s). Specialised in surgery of the genito-urinary tract and was appointed surgeon extraordinaire to the King of Brussels.
Dr. Edward Bach (1920s). Specialised in vaccines and bacteriology before moving to the London Homeopathic Hospital, then developing the still famous Bach Flower Remedies.
Sir Frederick Treves (1853- 1923). Credited with performing the first appendectomy in England on June 29th 1888 and of saving the life of King Edward VII who suffered appendicitis just before his coronation. He is perhaps best known for his friendship with Joseph Merrick, the 'Elephant Man'.
Florence Nightingale (1853). Nurse. "Superintendent of the Establishment of Gentlewoman" at Number 1 Harley Street.
Lionel Loque: (1926). Australian speech therapist. Successfully treated amongst others King George VI who had a pronounced stammer. The Oscar-winning film "The King's Speech" was not filmed in his original consulting rooms, though, but a duplicate set that was constructed not far away at 33 Portland Place.
Sir Charles Lyell Geologist (1854- 1875)
Grantly Dick-Read Obstetrician (1890- 1959)
Sir Arthur Pinero Playwright (1909- 1934)
Queen's College. One of the oldest girl's schools in the UK, it has been situated on Harley Street since 1848.
How did Harley Street Become Known for the Best Psychotherapists?
In the 1900s the mind became the new medical frontier. Famous psychoanalyst Sigmund Freud had developed his 'talking cure' in Germany, meaning the dubious mental health techniques of the 1800s such as measuring the skull and using magnets to relieve stress were finally challenged. After the Second World War psychotherapy began to take off with leaders such as Carl Jung driving forward Freud's theories into new avenues.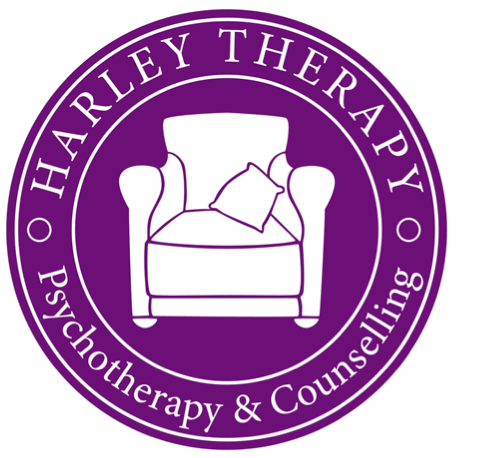 Nowadays, mental health is a highly respected medical field. Like all areas of medicine in the UK the top practitioners gravitate to the iconic Harley Street. From psychologists and psychiatrists to counsellors and psychotherapists, many businesses including our own namesake Harley Therapy Psychotherapy and Counselling are now found there.
Our counselling and psychotherapy rooms are located on the south end of Harley Street, close to John Lewis and Oxford Street. We also have offices in Canary Wharf and the City of London for the convenience of our clients.
Have you found this article about the history of Harley Street in London interesting? Use the share buttons above to spread the word. Do you have any questions or ideas you'd like to share? Comment below, we love hearing from you.