Cognitive Behavioural Therapy in London
Are you trapped by negative thoughts?
When things go wrong in life – from relationship breakups to problems at work or with family members – it's easy to find fault with yourself, but if you get stuck in a repetitive spiral of negative thinking you can end up feeling hopeless, depressed and physically exhausted.
This is where cognitive behavioural therapy (CBT) can help. Unlike other forms of psychotherapy, CBT focuses specifically on the problems and difficulties that you are experiencing now, rather than issues based in the past.
CBT is based on the theory that it is not events themselves that upset you, but the meanings you attach to them. This can start to cause you problems if you continue to hold on to the same thoughts and patterns of behaviour while failing to see the alternative explanation. CBT aims to show you ways of changing negative thoughts and composing alternative ways of thinking about your situation, all of which will make you feel better. 
What is CBT and how is it effective?
In simple terms, CBT is a form of psychotherapy which combines cognitive and behavioural therapies. The cognitive element looks specifically at how our thoughts can create our feelings and mood, and the behavioural therapy component examines the relationship between our behaviours and thoughts.
It is one of the most effective treatments available for conditions where anxiety or depression is the main problem, even matching the effectiveness of antidepressants in some cases.
In fact, based on numerous studies showing its effectiveness, the Government's NICE guidelines recommend CBT as a treatment for a number of mental health issues, and it has also been successful in helping with obsessive compulsive disorder, phobias and panic disorder, post-traumatic stress disorder, eating disorders, anger problems, habits (such as facial tics), drug and alcohol abuse, relationship problems and even sleep issues.
CBT has also been used to help people with chronic health conditions such as arthritis and irritable bowel syndrome (IBS), and although it cannot cure these physical problems, it can help individuals who have long-term conditions to be better able to cope with their symptoms.
How many CBT sessions do I need?
The number of cognitive therapy sessions depends on your presenting issues. Cognitive behavioural therapy tends to be short term when the presenting issues are non-complex. At the first consultation you can discuss how many sessions may be indicated.
Conquer your negative thinking – the Harley Therapy™ approach
Here at Harley Therapy™, London, cognitive behavioural therapists will help you work on your thoughts and behaviours to help improve how you feel. 
Your therapist will help you make sense of overwhelming problems by breaking them down into smaller parts. This makes it easier to see how they are connected and how they affect you. For example, your thoughts about a problem can affect how you feel physically and emotionally, and consequently how you act.
You will meet with your CBT therapist for a number of weekly sessions, each lasting approximately 50 minutes. Initially your therapist will assess how suitable the therapy is for your issues, and how comfortable you feel with undertaking the therapy.
Your therapist may ask you to keep a diary to help you identify your patterns of thoughts, emotions, bodily feelings and actions to help with this process. Together you will then look at your thoughts, feelings and behaviours to work out if they are connected, unrealistic or unhelpful and how they affect you.
Once you have identified what you can change, your therapist may recommend homework so that you can practise these changes in your everyday life. This could include questioning upsetting thoughts and replacing them with more helpful ones, or recognising when you are going to do something that will make you feel worse and instead taking positive action that is more helpful.
Your therapist will never force you to do things that you do not want to. They will work with you to help you find ways of managing your current difficulties, and together you decide the pace of the treatment and how many sessions you think you might need.
Cognitive behavioural therapy is not a quick fix or an instant miracle cure, but one of the greatest benefits of CBT is that you can continue to use the skills in future situations to prevent escalating spirals of negative thought. 
Cognitive Behavioural Therapy at Harley Therapy™ London
We'll connect you with a highly qualified clinical or counselling psychologist who has many years of training and clinical experience in delivering cognitive behavioural therapy.
All therapists aligned to Harley Therapy have studied in the top UK institutions and offer CBT for all conditions including depression, stress, anxiety, trauma, eating issues, low self-esteem, anger management, relationship difficulties, sexual problems, work/career issues, phobias and obsessive compulsive disorder.
Start the change today
If you are thinking about embarking on a course of CBT sessions in London, then contact us now for more information on how we can help you, or to book an initial consultation at one of our locations in the City of London, Canary Wharf, London Bridge or in Harley Street. We look forward to helping you.
Further reading on CBT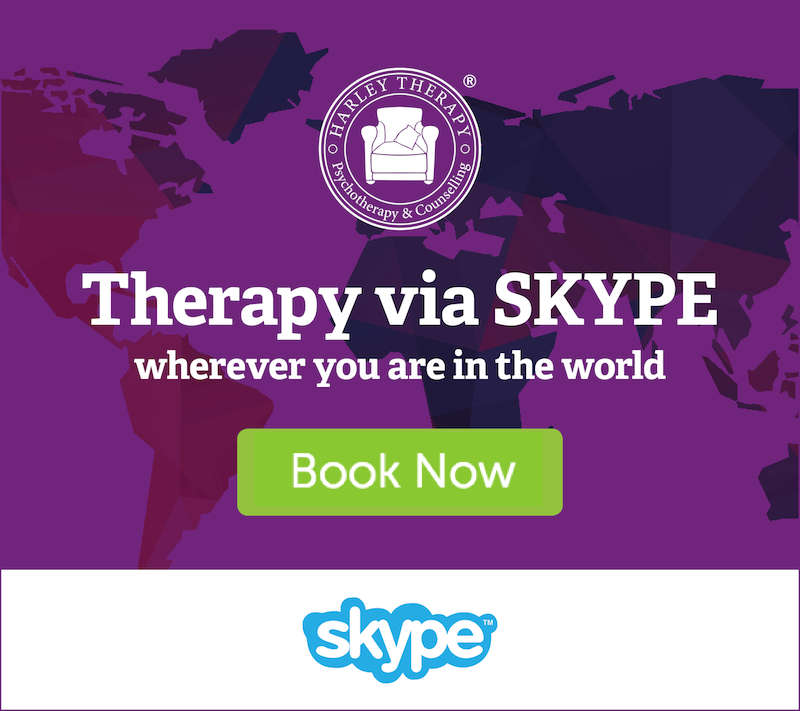 Video: What is Cognitive Behavioural Therapy (CBT)?
CBT Can Help With: