Do Therapists Have Therapists, Too?
Have you often wondered, do therapists have therapists themselves? Have they been in the other chair? Can they really understand what you are going through?
Do therapists have to go to therapy?
There is no law here in the UK stipulating that qualified and practicing counsellors, psychotherapists, and counselling psychologists have to attend therapy themselves.
But many therapists do indeed attend therapy, and it's also an integral part of most talk therapy training. Plus, registered therapists are required to have a supervisor, who is a senior therapist overseeing their client work.
Going to therapy when training to be a counsellor or psychotherapist
The amount of therapy that someone does when at school to be a therapist depends on the training approach they have chosen, and the school they are attending.
But all counselling programs and psychotherapy schools in the UK have therapy sessions as a requirement. An MA in Integrative psychotherapy at the highly regarded Regent's University, for example, demands that a student attend weekly therapy sessions throughout their course.
The one loophole here in Britain was if your therapist decided to become a talk therapist by training as a counselling psychologist. Previously there were some schools that did not require that a student also attended personal therapy sessions. But that seems to have changed. The counselling psychology MA at University of Roehampton, for example, demands at least 105 hours of personal therapy be attended over their three years of training.
Do therapists have therapists once they are qualified?
Once a therapist is out there working as a fully qualified professional, there is no rule that they have to attend therapy any more. But many do.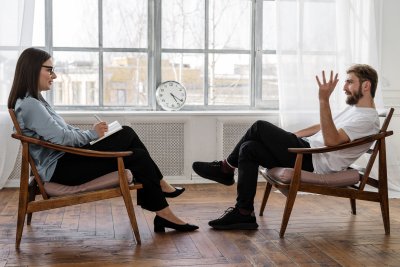 Wondering why? Because, well, surely after all those years of training and knowing all there is to know about mental health issues, a therapist wouldn't need it?
This is a therapy myth, that goes back to the idea that it is some sort of magic wand.
Therapists are not super humans. Life is as unpredictable for therapists as much as anyone else. Training to be a therapist means you know great tools for dealing with stress and challenges, not that your life stops being challenging.
And, like most of us, it can be far easier to help others than to help ourselves. Therapists can benefit from outside perspective and unbiased support as much as anyone. They, too, go through things like breakups, bereavement, relationship hiccups, and parenting troubles.
Why therapists need therapy sessions
In fact therapists have a unique job that can mean therapy, for them, can serve as more than just a way to discuss their personal challenges.
It also provides the following:
1.It maintains empathy levels.
Listening to people's traumas for a living while always remaining open and sensitive is no easy task. To have strong empathy we need to not ourselves be numb from unresolved issues leaving us with a 'backlog'. And we also need to remember what it's like for a person to be in that other chair, being brave enough to share their issues.
2. It helps avoid countertransference.
Countertransference is a therapy term that means a therapist bring their own issues into sessions. They forget about professional boundaries. This can look like sharing their similar personal experiences with a client, projecting their own feelings onto the client instead of recognising the client's viewpoint, or developing an emotional entanglement.
And countertransference happens if a therapist has unresolved emotional issues of their own that are triggered. Therapy means that their issues are constantly resolved and dealt with, meaning there is less to trigger. And if they are sensing countertransference surfacing, they have someone to talk to about it who really understands.
3. It provides inspiration and creativity.
Your therapist might experience the approach of their personal therapist in a way that gives them ideas for how they might then work with you and their other clients. Or how they can help their clients also have breakthroughs.
4. It reminds them of work life balance.
Knowing we are making a difference in other people's lives can be rewarding. But it can also leave us feeling so driven to help and with such a sense of innate responsibility that we forget to help ourselves.
This means practicing self-care, and remembering to keep a work vs life balance . Therapy can be part of self-care for a therapist, and means they are accountable to someone who will notice if they are not keeping up all corners of their lives.
Therapists have supervisors
While there is no enforced requirement that therapists do therapy, most do have to attend what is called 'supervision'.
A supervisor is a senior therapist with years of experience who has been certified to oversee other therapists.
It's not 'therapy' as the idea is not to discuss your personal life.
Instead, it is a working alliance, and a chance for a therapist to discuss and reflect on their work. They can get support if they have concerns about their approach, or how they can best serve each of their clients.
The supervisor's job is to make sure your therapist is doing the best job they can to help you, and is growing and evolving as a practitioner. The British Association for Counselling and Psychotherapy (BACP) explains supervision as:
"A specialised form of mentoring provided for practitioners responsible for undertaking challenging work with people. Supervision is provided to ensure standards, enhance quality, advance learning, stimulate creativity, and support the sustainability and resilience of the work being undertaken."
So a therapist talks about me behind my back?
No. A therapist would never divulge personal details about their clients, such as telling their supervisor your full name or where you live or work. And the supervisor is bound by the same code of ethics as your therapist to never divulge any details outside of sessions in any case.
Your therapist is not talking about you personally behind your back, they are discussing details of what was shared in an anonymous way, in order to get feedback that they are doing their best possible job at helping you.
But do therapists have to be supervised?
Yes, if they want to be registered. In the UK most professional therapists join a registry, which is like a sort of members club for therapists. The aforementioned British Association for Counselling and Psychotherapy (BACP) is one, for example, as is the British Psychological Society (BPS).
In order to 'stay in the club', so to speak, a therapist must adhere to a clearly laid out set of ethics and rules. And one of these is to be under supervision.
The BACP, for example, stipulates that a therapist must agree to:
have supervision in place

keep an updated record of their supervision sessions

allow the BACP to at any time ask to see this record

and also allow the BACP to at any time ask for their supervisor's details and then contact their supervisor.
And to be an 'accredited member', which requires a certain amount of experience and a lengthy assessment process, a therapist must commit to at least 1.5 hours of supervision a month.
Interested in working with a registered, accredited therapist? We connect you with a team of some of the most experienced and qualified therapists in central London. Looking for more affordable therapy or online counselling? Try our therapy booking site which has a wide range of UK-wide registered practitioners.
---
Still have a question about 'do therapists have therapists'? Ask below.