Postpartum Depression in Men? 'Dad Brain'? Yes, It's All a Thing
by Liz Szalai
The postnatal wellbeing of new mothers, including mental health, is now a hot topic. But men go through changes too, some even before the baby is born, and things like postnatal depression in men are real issues.
Dad brain
It's not just that you feel different since becoming a father. You are actually experiencing real changes, if a small but fascinating study exploring changes in fathers' brains postpartum is anything to go by.
It found that there were significant neurological changes during four months postpartum. The researchers concluded that this period is critical for dads to develop an emotional bond with their infants through intense interactions. This can become the basis of father-child attachment, which will then have long term impact on your child's cognitive and social development.
Hormonal changes happen to dads, too
Scientists not only proved changes in the brain, they found that new fathers experience changes in their hormone levels, too. This can help explain the good feelings, as well as contribute to postpartum depression in men.
The 'love' hormone
Oxytocin is the hormone associated with bonding, sometimes called the "love hormone". New mothers are known to see significant rises in oxytocin during pregnancy and breastfeeding. And now a research review demonstrated that there is a measurable increase in the new father's oxytocin levels, too, during stimulating and playful interactions with their new child.
Men don't breastfeed, but…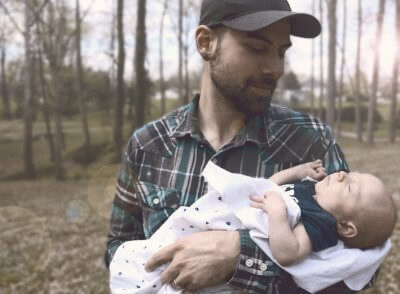 Prolactin is known as the hormone that plays an important role in breastfeeding. But a study shows how fathers' prolactin level also changes during the postpartum period, elevating and meaning they are more responsive to their baby's cues.
No you aren't imaging it… your libido is lower
Wondering why your libido is not the same? Prolactin might make you more sensitive to your child's needs, but it also decreases both partners' sex drives, allowing for for higher involvement in infant care and less interest in distracting 'fertility behaviours'.
And your testosterone joins the decline, apparently. A study found that direct care of infants causes a slight decline in testosterone levels. There is an evolutionary explanation here. Males with lower testosterone are more likely to stay with their partners, and less likely to display aggressive behaviour towards their infant.
Father-baby bonding
When the new baby arrives, fathers might feel left out as the baby is so reliant on their mother, especially during the fourth trimester when the baby is adjusting to the outside world.
But the father-baby bond can be just as special. It is important to start early, recommends the National Childbirth Trust. Caregiving, communication, and play can help to form a connection between a new father and child.
Skin-to-skin contact
Skin-to-skin contact can also play a very important role, as it helps the baby regulate and calm down. And it produces hormones in the father to strengthen the bond and reduce anxiety in both parents and baby, mentions a study exploring early interactions with pre-term infants.
Another study found that after caesarean delivery, father-baby skin to skin contact "was beneficial for newborns by stabilising newborns' physical conditions and increasing the breastfeeding rate". They observed that babies' vital signs were significantly better with skin-to- skin contact.
Postpartum depression in men
Postpartum depression doesn't just affect new mothers. According to the NHS, one in 10 new fathers experienced symptoms of postpartum depression in the UK.
Note that symptoms can be very different in fathers than mothers. The National Childbirth Trust states that classic depression symptoms like sadness do occur, but for some, postpartum depression in men can display as:
frustration and irritability

social withdrawal

violence

alcohol and drug use

insomnia

marital conflict.
A study on postpartum depression in men focuses on the importance of finding help, as PPD can distance new fathers from their baby.
Symptoms often go undiagnosed, with men feeling overwhelmed or with feelings of contempt that see them withdraw. Other factors that make treatment and diagnosis difficult are that men are less likely to seek help with depression, or might only focus on their partner's problems.
Postpartum depression in men is stated by the study as 40% more likely if the mother is experiencing symptoms of depression after giving birth.
What helps dad brain and postpartum depression in men?
According to this research review, there are three key factors that affect a new father's wellbeing and mental health. These are:
their identity as a father

the challenges of the new role

fears and negative feelings related to fatherhood.
More support during preparation for fatherhood, guidance, and accessible information resources are suggested as tools to help this transition be smoother.

Another study discusses how social media communities can help men gain more information and support through the process. The forums provide experience-based advice, humour, and encouragement. The new dad-to-be can feel as a part of a community, supporting their mental health and wellbeing.
Can therapy help me with fatherhood?
Absolutely. You do not have to be at crisis point to benefit from working with a counsellor or psychotherapist. Therapy can help you gain clarity around any worries you might have about parenthood, can help you raise your self-esteem, regulate your emotions, decide what sort of father you will be, and harness the inner resources you already have to be that person.
Time to stop stressing and start progressing? We connect you with a team of top talk therapists in central London who can help you with parenting. Or use our sister site to book UK-wide therapists ranked by customer feedback.
---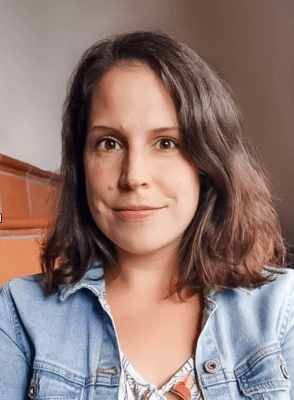 Liz Szalai is a psychologist, teacher, mental health writer, and mother. She worked with children and young people for more than 15 years, including teaching students with learning difficulties. Find her at @lizszalaiwriter.