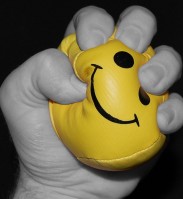 Think back over the last two weeks of your life. Take this entire time span into account for each of the questions* below and answer as honestly as you can. Note that there are no right or wrong answers – just what feels true to you.
A list of useful resources for dealing with low moods will be emailed to you upon completion.
This quiz is by no means a stand-in for an assessment with a professional.
signing up entitles you to receive our monthly newsletter and to hear about our new articles to help you manage your moods and life. You can opt out at any time. 
*loosely based on the Patient Health Questionnaire (PHQ9) developed Drs. Robert L. Spitzer, Janet B.W. Williams, Kurt Kroenke and colleagues, with an educational grant from Pfizer Inc.
Resources
Free hotlines in the UK:
•Childline: 0800 1111
•Samaritans: 08457 90 90 90
•Saneline: 0845 767 8000
Click to read our free guide to depression:
http://www.harleytherapy.co.uk/depression-help-guide.htm
Some self-help websites include:
http://www.moodjuice.scot.nhs.uk/depression.asp
http://www.nhs.uk/conditions/Depression/Pages/Introduction.aspx
Our guide to free or low-cost counselling:
http://www.harleytherapy.co.uk/counselling/low-cost-therapy-free-counselling-services.htm
Our list of useful self-help books:
http://www.harleytherapy.co.uk/self-help-counselling-reading.htm