Wellbeing Workshops for your Workplace
Seeking to boost your workforce's wellbeing and productivity?

 

Need an expert to offer practical training & advice to help energize your staff?

 

Looking for highly engaging and bespoke wellbeing workshops?
Or a psychology speaker to talk about mental health at your company?

 
We deliver in-house workshops to forward-thinking organisations seeking to make your workforce more positive and productive. The award-winning team of psychology experts is led by Dr. Sheri Jacobson.
Our classic workshops titles:

Emotional Wellbeing & Self-Care
Busting Work Stress
Anger Management 
Dealing with Depression
Mental Health Awareness
Healthy Relationships 
Coping with Loss and Change 
Building Self-Esteem
Understanding & Supporting Trauma
Tackling Addictive Behaviours
Promoting Good Sleep 
Conflict Resolution
Intro to Cognitive Therapy (CBT)
Specialist workshops include:
Mindfulness Introduction
Developing Gratitude
Cultivating Compassion
Beating Procrastination 
Grow your "Growth Mindset"
Boosting Emotional Intelligence
Harnessing the Mind-Body Connection
Promoting Balanced Thinking 
Resilience Building 
Understanding ADHD
Quietening the Inner Critic
How to Manage Bullying
Obsessions & Compulsions
In all our workshops we encourage individuals in your organization to take responsibility for their growth in ways which lead them to become more positive and productive.
We emphasise that self-improvement strategies are unique and to that effect we help individuals to create their own wellbeing toolkit and resources to lean on.
We also encourage habit formation to help embed healthier ways of being. We achieve this with customised communications for HR to distribute on a planned calendar basis, and/or allow employees to access to content directly online.
Each workshop is designed to enlighten, engage and leave staff with implementable actions to improve their wellbeing.
Our clients include:
Harley Therapy is listed on the FT Future 100 (2018/2019) as a business shaping its sector and making a positive impact. And as London's largest and busiest chain of private psychotherapy clinics, we are proud of our reputation for having the best minds in the field working under our banner.
How to book your session
Call us now on 0345 474 1724 OR
All of our practitioners are qualified and accredited with reputable professional associations for counselling and psychotherapy.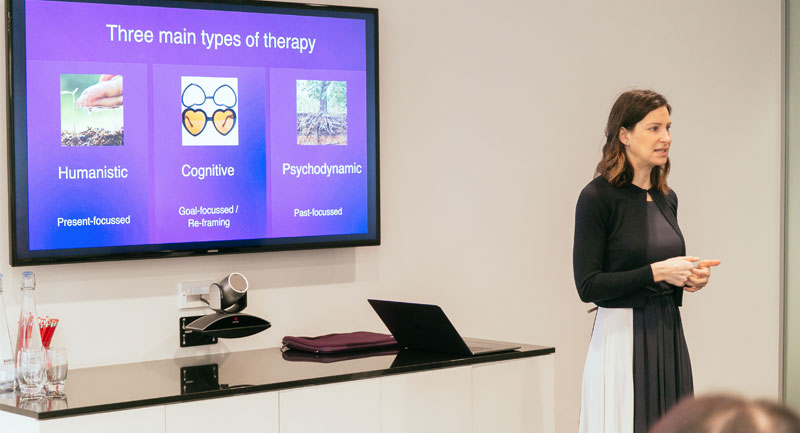 CITE THIS PAGE
The Power of Positivity and Self Belief at ITV television centre
Additional Workshops
Breathwork
Yoga
Laughter Therapy
Drawing Therapy
Mediation
Running
Origami
Pilates
Nutrition
Other Services 

Wellbeing MOTs/Wellness checks. Includes - Mental Health Assessments for all staff.
Access to therapy services on subscription or as needed basis.
Wellbeing resources Hub for employees (written, audio & video content and guided self-help and self-development material).
Consultancy including wellbeing strategy and policy planning across your organisation.