Media psychologists at Harley Therapy London
Seeking a media psychologist to give comment for your article?

 

Need a TV psychologist or radio psychologist to offer expert advice?

 

Or a psychology speaker to talk about mental health at your company?

 
Our company has been selected by the FT Future 100 (2018/2019) as a business shaping its sector and making a positive impact. And as London's largest and busiest chain of private psychotherapy clinics, we are proud of our reputation for having the best in the field working under our banner. 
The team of media-trained psychology experts at Harley Therapy is led by Dr. Sheri Jacobson. It includes highly experienced psychotherapists, counselling and clinical psychologists who work with individuals, couples, children, and families. 
We provide experts and speakers on a range of issues, including:
Addiction
ADHD
Anger Management
Anxiety
Bereavement
Depression
Domestic Abuse
Eating Disorders
Family 
Life Change 
Mindfulness
OCD
Parenting
Phobias
PTSD
Relationships 
Sexual Abuse
Sleep Problems
Wellbeing
Workplace Stress.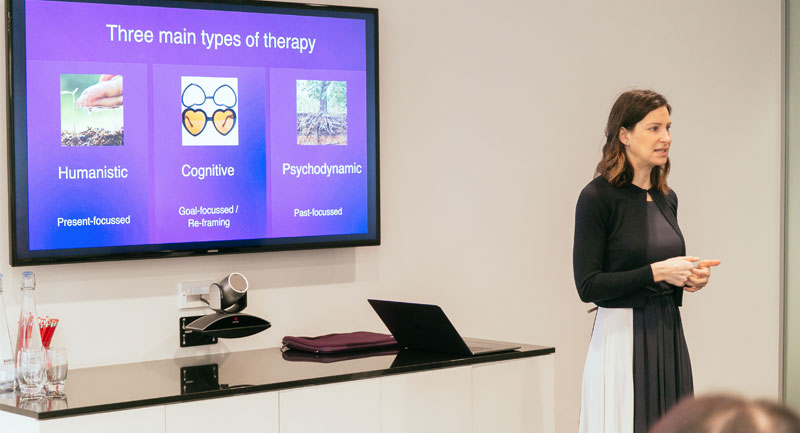 Dr. Sheri Jacobson - Media Psychologist and Speaker
Dr. Sheri Jacobson is the CEO and driving force of Harley Therapy since she founded the company in 2006.  Called the 'Mary Berry of psychotherapy' for her dedication to elevating the field, she is passionate about de-stigmatising mental health and making it a positive mainstream topic. 
Media and Journalism 
An established psychology expert for TV, radio, and print, Sheri has featured with such media outlets as the BBC, Sky News, Bloomberg TV, The Financial Times, The Telegraph, and The Times. 
Speaking 
Known for her warm and positive style, Sheri loves to take the mystery out of therapy. She aims to help us all be more comfortable talking about mental health, and has shared her expertise at companies such as ITV, Diesel, and the British Fashion Council. 
Media pack includes:
Harley Therapy logos
Sheri Jacobson headshots
Download
The Power of Positivity and Self Belief