Emotional Wellbeing and Self-care Workshop
Our signature talk has been delivered to audiences far and wide, from students to hedge fund managers and heads of schools.
It outlines the importance of self-care and helps participants take an overview of their personal wellbeing across four dimensions; thoughts, feelings, physical and behaviour.
Participants gain knowledge to:
Build a personalised toolkit of wellbeing strategies

Education on a range of evidence-based exercises and techniques commonly used in our clinics
With live demonstrations of the key techniques, they will leave with a sense of enthusiasm for understanding themselves better and renewed motivation to be guardians of their own health.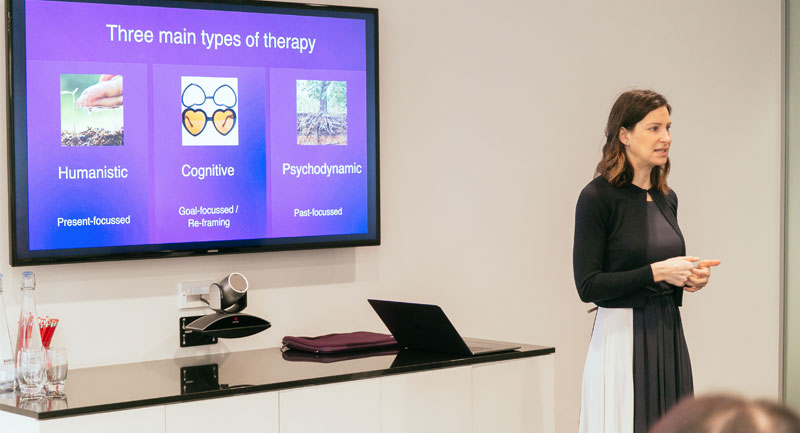 Our classic workshops titles:
Specialist workshops include:
Mindfulness 
Gratitude
Compassion
Procrastination 
Perfectionism
Growth Mindset
Emotional Intelligence
Mind-Body Connection
Restoring Attention Deficit
Balanced Thinking 
Resilience Building 
Trauma
ADHD
Bullying
Obsessions & Compulsions
Santander Wellbeing Network Launch
Additional Workshops
Breathwork
Yoga
Laughter Therapy
Drawing Therapy
Mediation
Running
Origami
Pilates
Nutrition
Other Services 

Wellbeing MOTs/Wellness checks. Includes - Mental Health Assessments for all staff.
Access to therapy services on subscription or as needed basis.
Wellbeing resources Hub for employees (written, audio & video content and guided self-help and self-development material).
Consultancy including wellbeing strategy and policy planning across your organisation.